Weekly flag-raising ceremony and speech under the national flag
The national flag raising ceremony is conducted weekly by students marching in Chinese style, with sharing under the national flag about Chinese history, Chinese contemporary developments and ten priority values devised by Education Bureau. The goal is to promote students' national identity and positive values.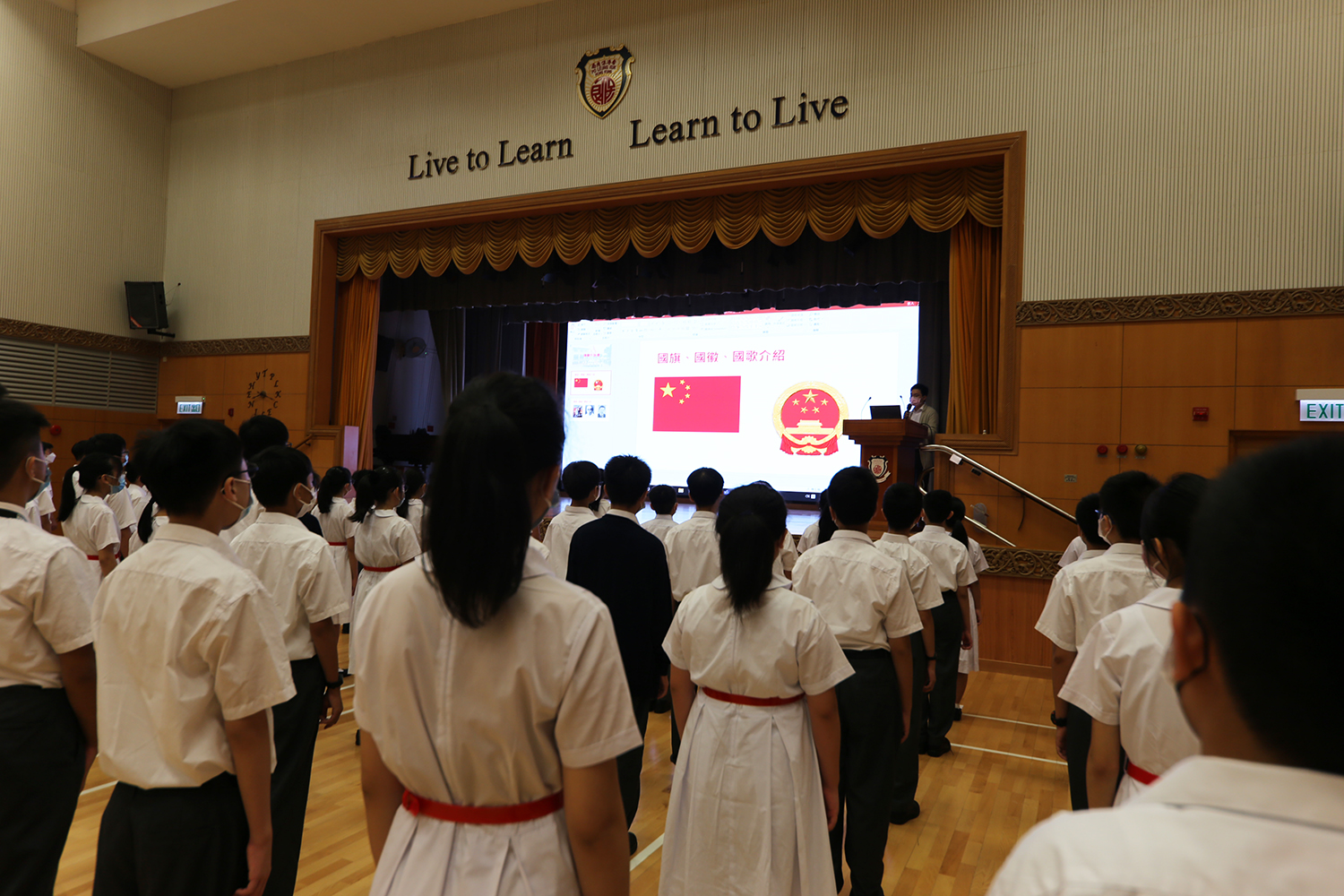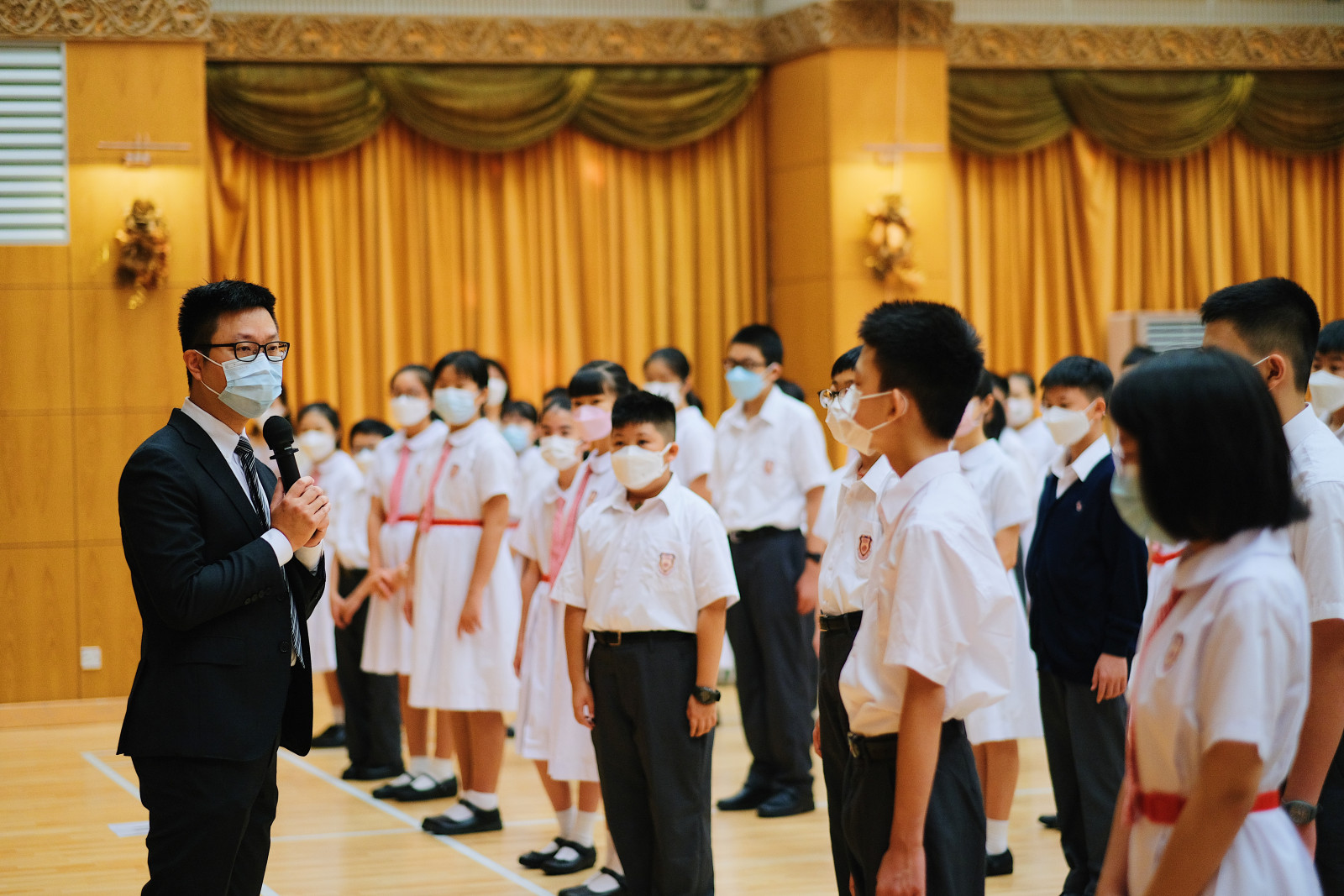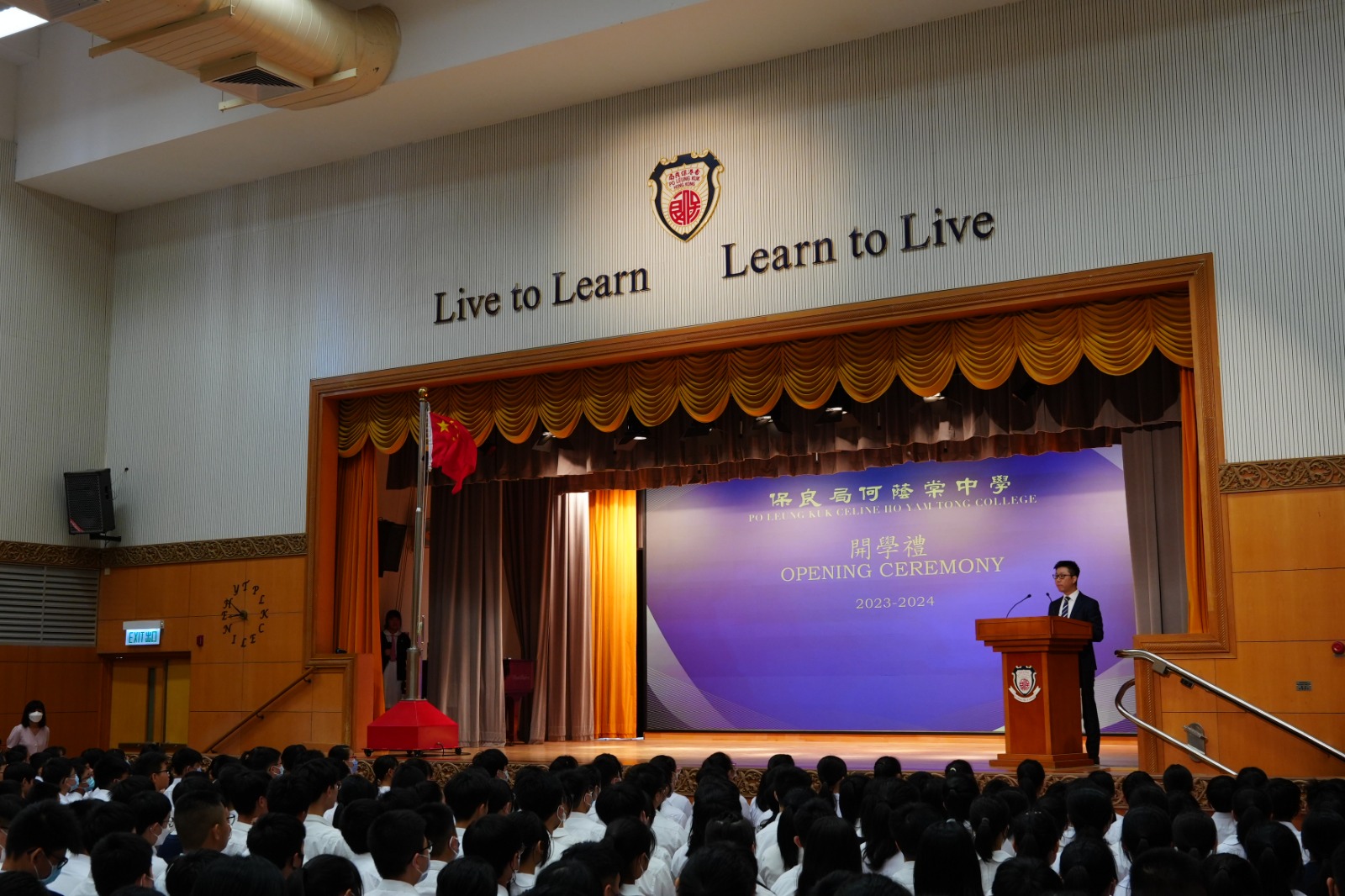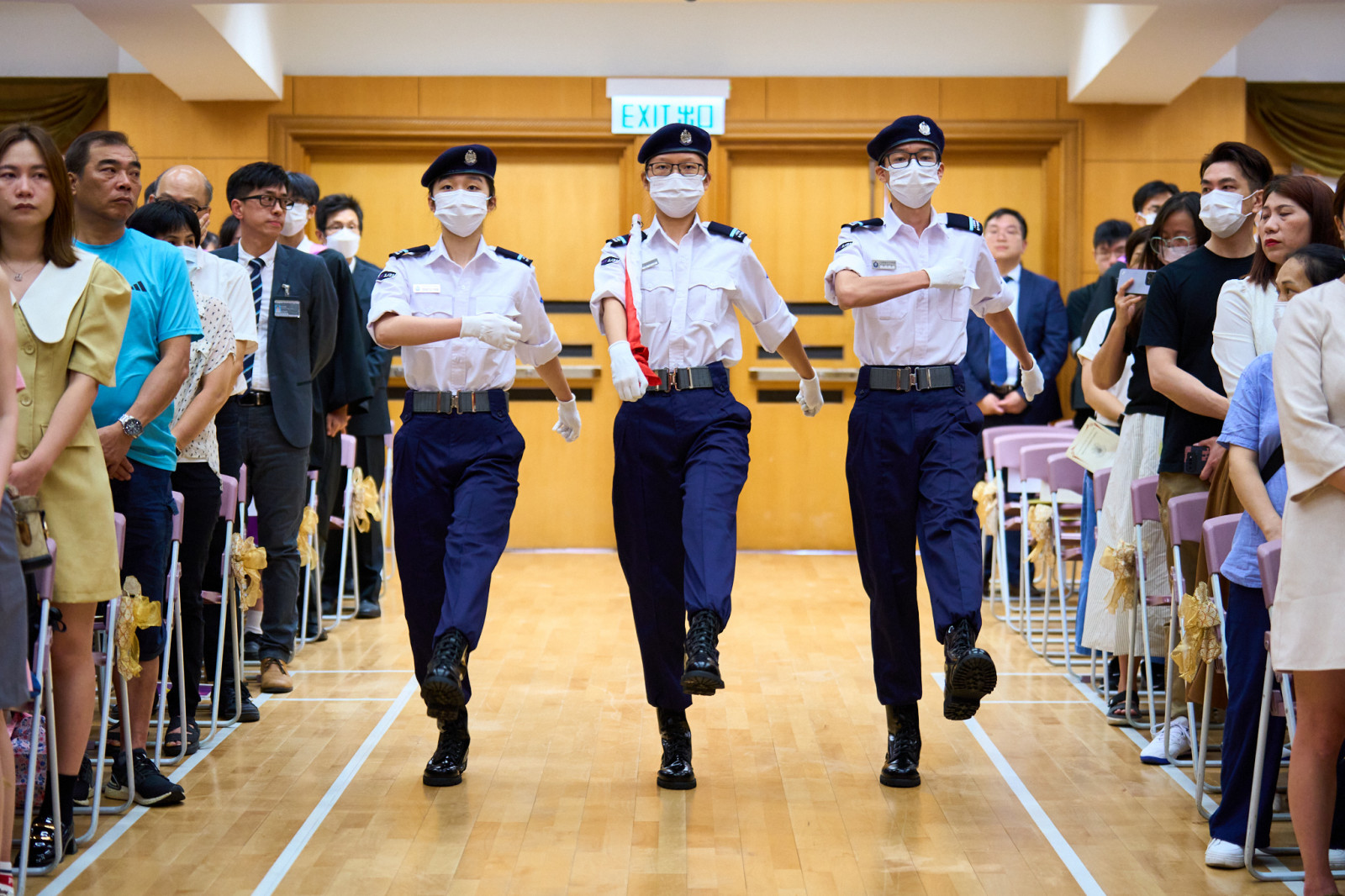 Guided Reading Program and Chinese Cultural Heritage Week
Chinese Literature Scheme is jointly organized by Junior Form Chinese Language Department. Students are expected to develop traditional moral values through reading and reciting different Chinese articles and passages.
Assemblies related to the continuity of the traditional culture is an introduction to traditional Chinese culture such as Chinese architecture, food culture, clothing, etc., aiming at to promote Chinese traditional culture and teach students how to appreciate the aesthetic appeal of Chinese culture and bestow praise on the Chinese's characters and virtues.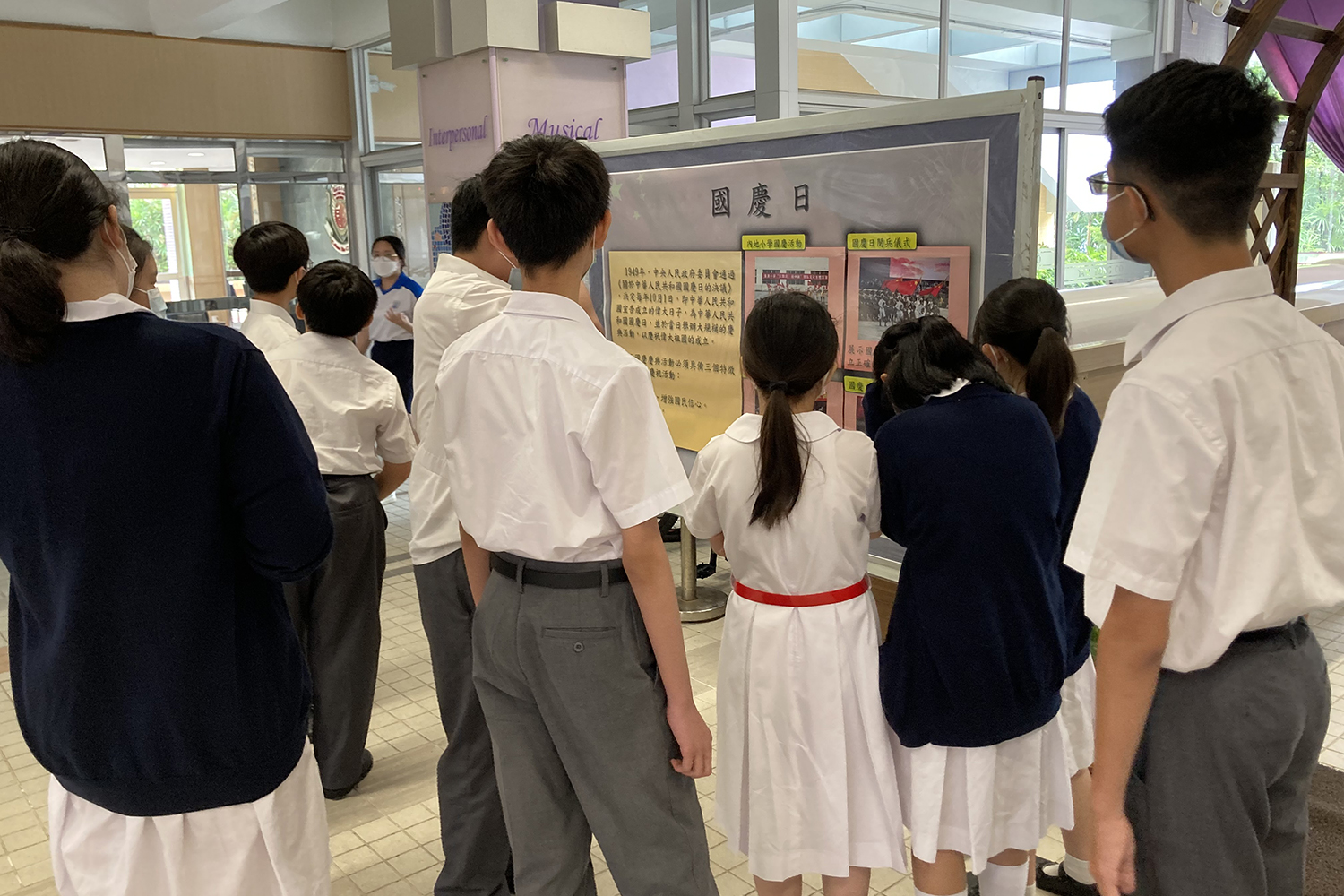 Chinese Culture Day
Through a variety of activities like pitch-pot games, Kau Wa Rings, archery, Burr puzzle, wooden archery, shuttlecock, students could have hands-on experiences to try Chinese traditional games. Meanwhile, Culture Day covers introductions to 4 great Chinese inventions, 'Qin, chess, calligraphy and painting', clothing and daily snacks, which deepens their understanding of China so as to foster their patriotic sentiments and positive values.
Activities

Civic and Social Development Branch Mainland Study Tour

China Aerospace Journey 2023 - Beijing and Nanjing Aerospace Technology Study Tour

STEAM@Soybean Gansu Study Trip

Visit Ngong Shuen Chau Naval Base

National security education day

Together We Prosper" Grand Parade

2022 Together Fun For National Day

Greater Bay Area Hong Kong Air Tour
Awards

'China Taiping Cup - I Love My Country' Inter-school essay and mandarin speech competition wins First Prize

'I Love My Country' Golden Bauhinia Cup Hong Kong Inter School Composition and Putonghua Recitation Competition won 2nd Class Prize

Joint school flag raising competition 2023 wins 1st runner up

Joint School Flag Raising Competition won 1st Runner-up